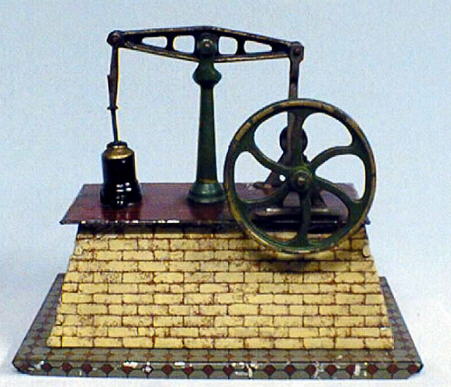 Circa 1908 - The catalog called these Mechanical Stationary Engines. The litho is unmistakably Ives. The one pictured above is definitely a No. 525 with the single wheel. The one below may be a No. 526 (two wheels) but the 526 was supposedly larger with a link fence around the base. Ives also cataloged a No. 500 and a No. 501 which had smaller wheels and the body from a No. 66 tank car attached.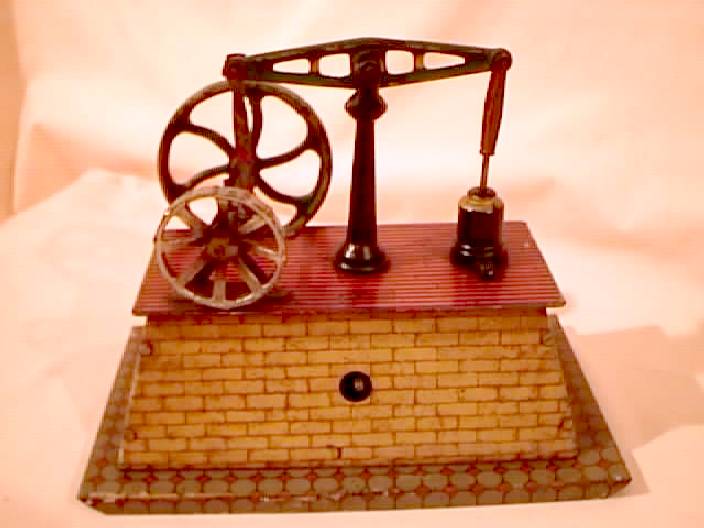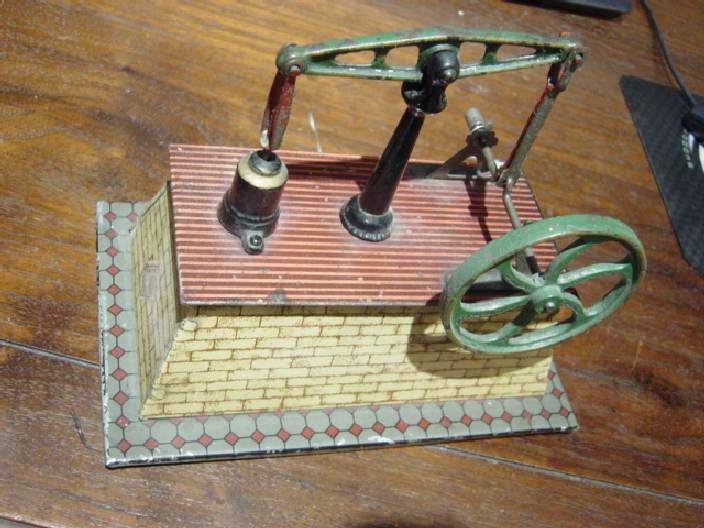 Top down view of another No. 525.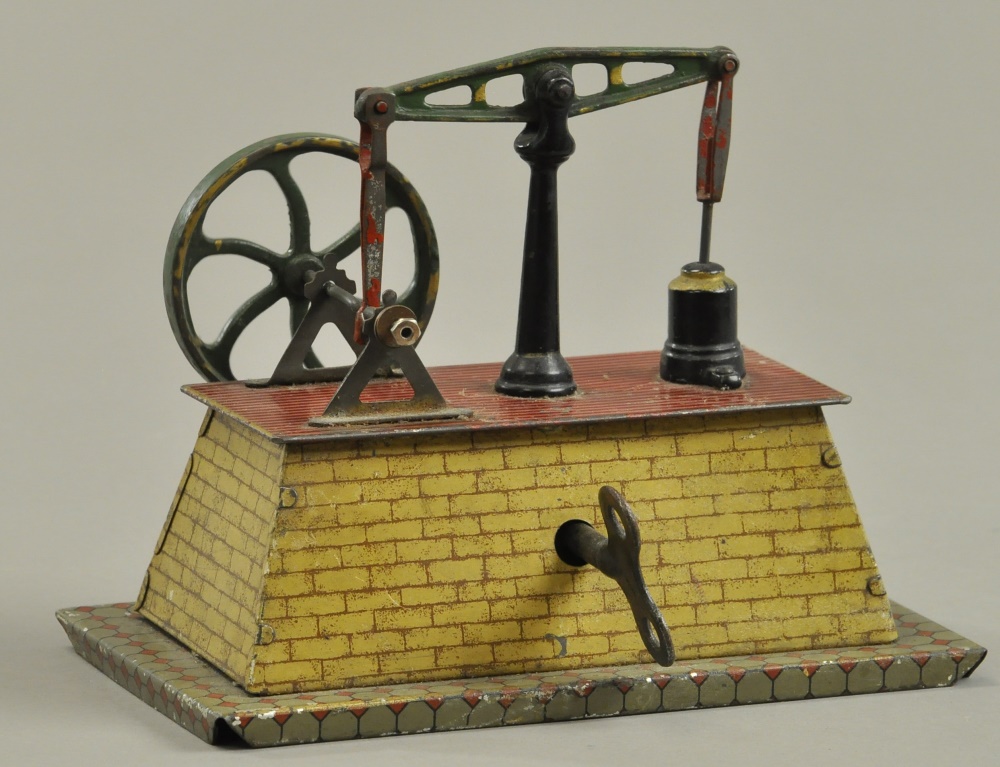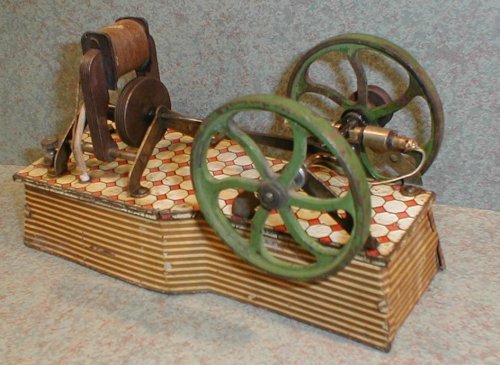 Cataloged in 1911-12 this was called a Stationary Electric Engine and sold for $1. It didn't sell well and this is the only surviving example we've seen.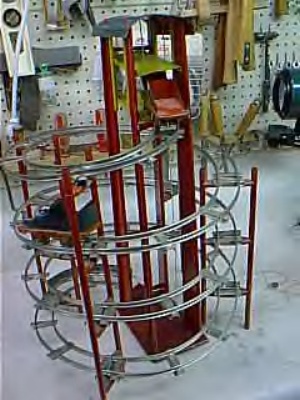 The IVES Mining Set. Never pictured in any of the train catalogs this has to be one of the first 'action accessories' The little cars would run down the track by gravity, where at the bottom they were pulled back up to the top with a string activated lift
The baggage cart and carrier above are probably post 1910 with their 'floor' wheels.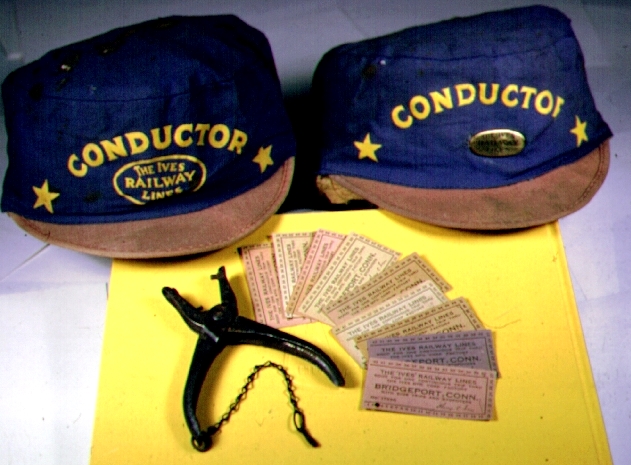 Circa 1927 - These conductors outfits came in several 1927 boxed sets. Contrary to popular belief there was no conductors coat included, although their were two lapel pins (actually two brass plates like those that came on locomotives made so the tabs would bend around your collar). Everything has a variation, note the difference in the two hats above, the one on the right appears to use what looks like the brass plate off an electric engine. The actual railroad tickets came in 4 different colors, and it would appear that between 15-20 came with a set. The ticket punches that we've seen do not appear distinct and don't carry the IVES name. Below is what the box looks like that the Conductors Outfit came in. Note that it also came with a hat band and instructions on how to use it so that it would property fit that small head.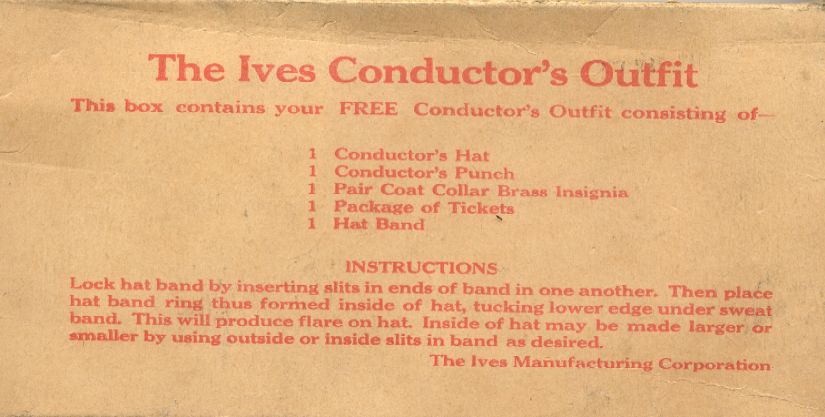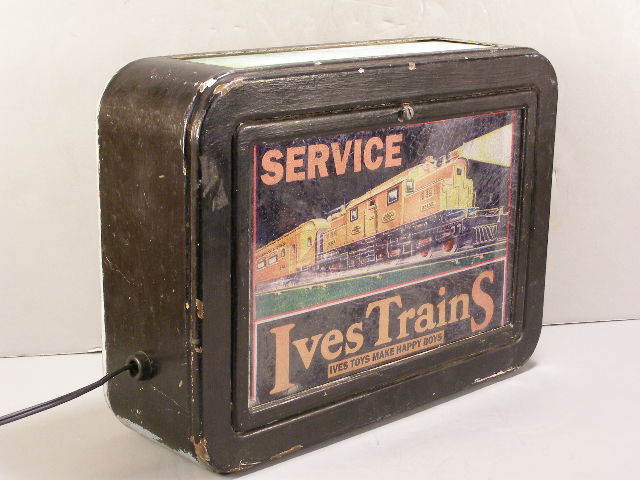 We don't have any history on this and it's the only one we've seen. It's a store sign that uses the graphics from a 1926 catalog.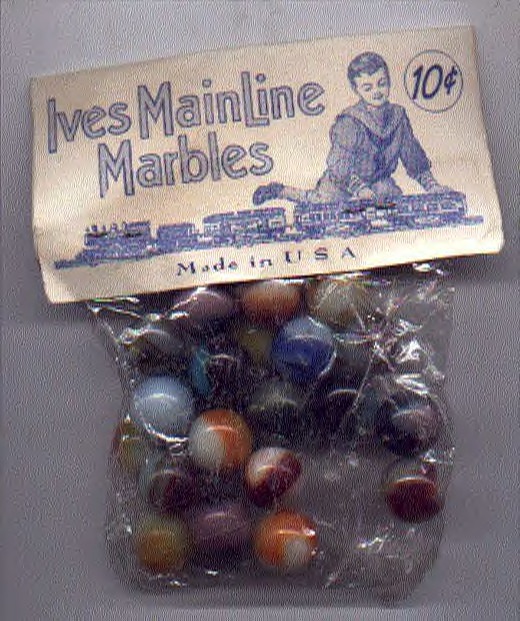 This bag of marbles is a fake, why anyone would produce such a thing is beyond us, it may be that there was an original to copy this from, but we've never seen it.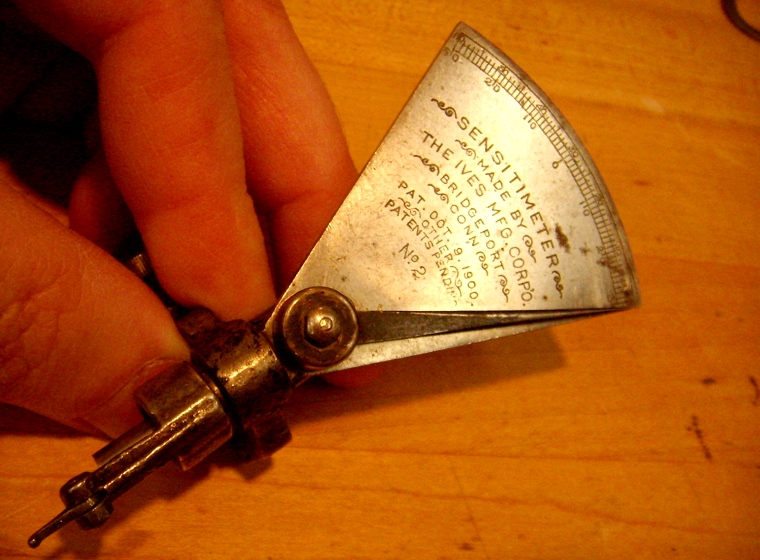 Another mystery. We assume this is some sort of micrometer. Pat. date 1900, this was sent to us by a tool collector.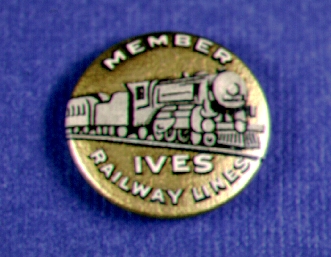 Circa 1927-1932 - To be a member of the IVES Railway Lines you needed an official pin. These pins were obtained by filling out a postcard with your name and Birthday and sending it back to IVES.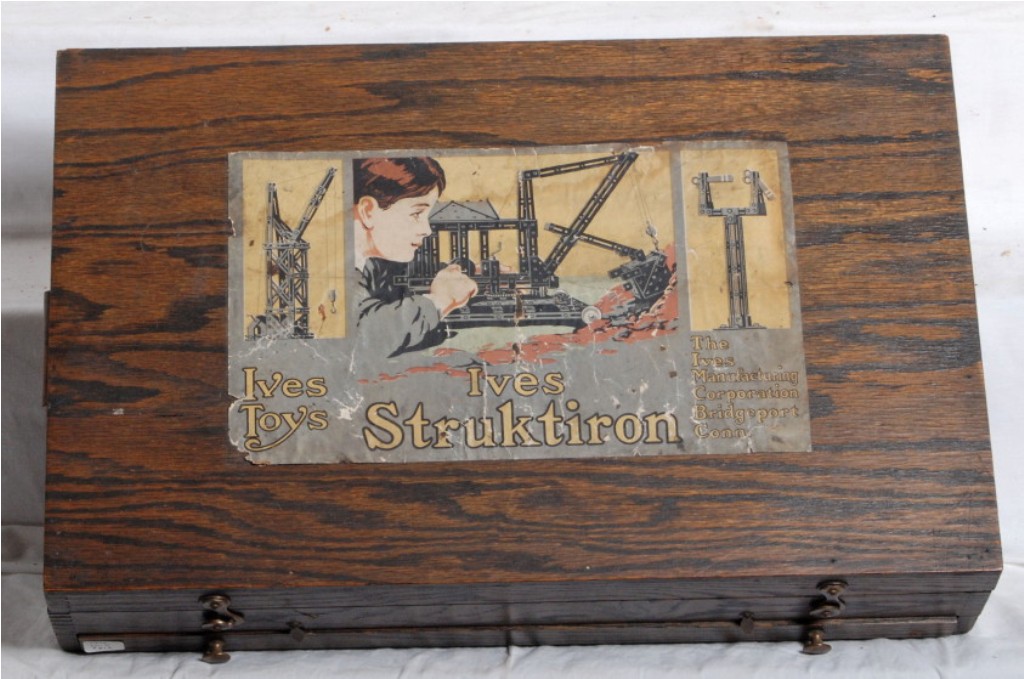 Circa 1915 - Ives decided to get into the construction set business. Struktiron as it was called was given prominent space in the 1915 catalog, but must not have sold well as it would appear IVES had given up on it by 1917. The set pictured above was IVES most expensive set and came in a large wooden box with pull out drawers. Most of the other sets came in smaller cardboard boxes.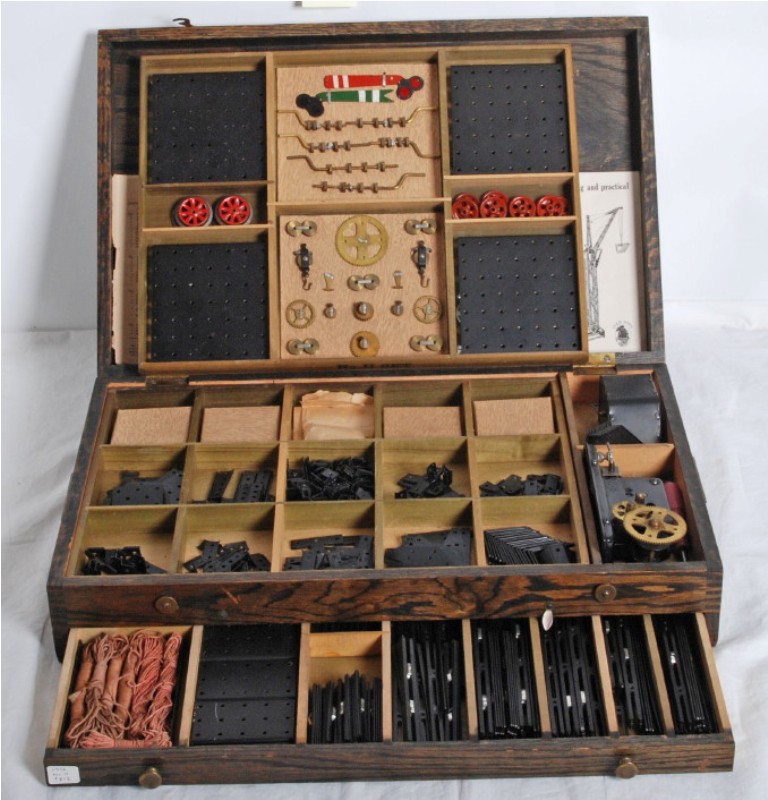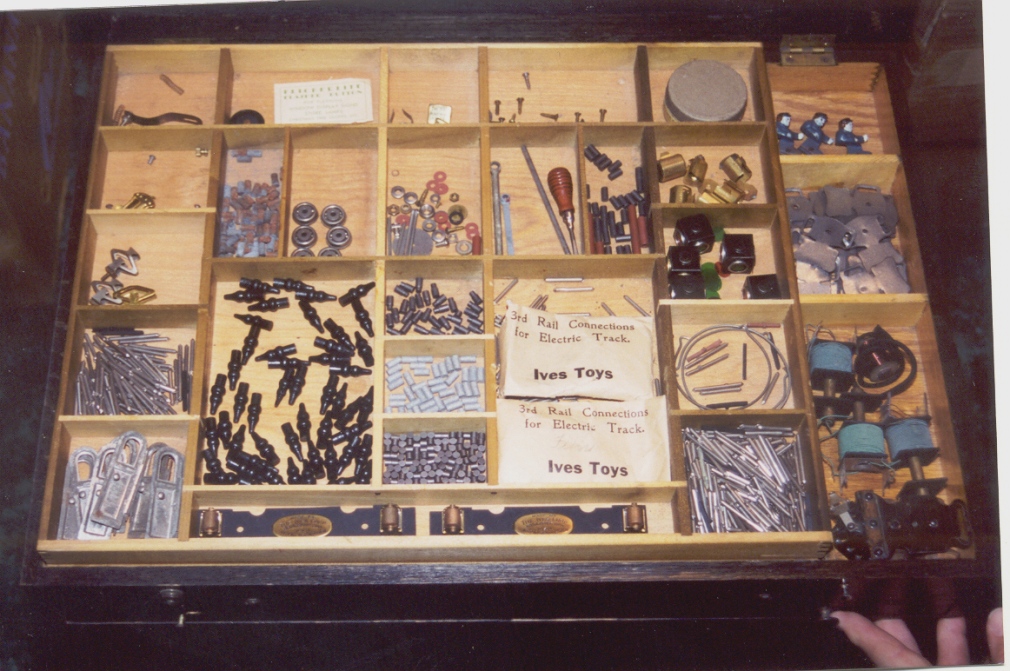 Here's the inside of a big Struktiron box, but this one came from a former Ives Employee and is full of brand new original Ives Parts. Note the little engineers in the upper right hand corner. This would date the contents to 1927 or later, 10 years after Ives took Struktiron out of the catalog.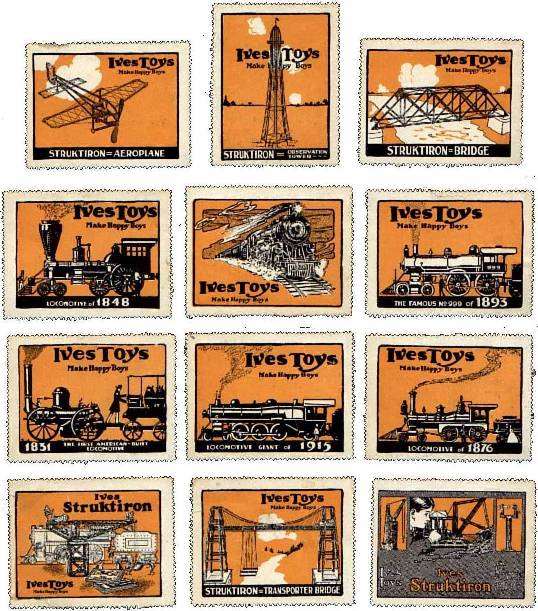 Click on each stamp for enlargement
Circa 1915 - Ives Poster Stamps - this is the full set of 12. The single stamp below would appear to be from 1913 (at least that's the 1913 catalog cover on it). We really don't know much about it and have only seen two to this day. Size is approximately 1.5" wide and 2" long.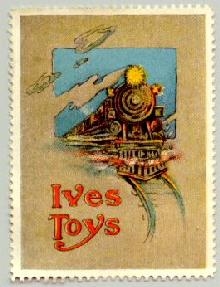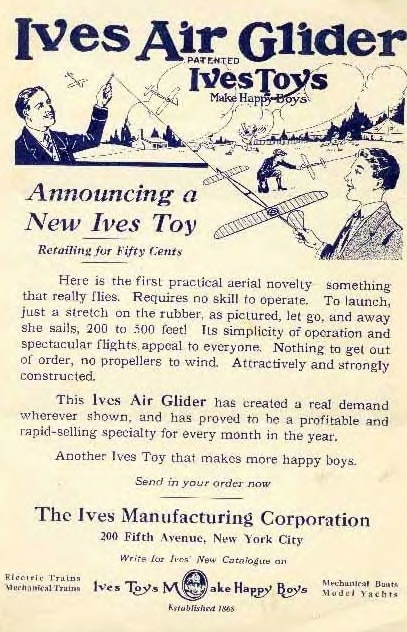 Trains, boats and airplanes? We've never been able to find a surviving example of this 'Air Glider' but the advertisements have survived to prove they once existed. According to Lou Hertz these gliders were introduced in 1922, but sales did not meet expectations and they were not available in 1923.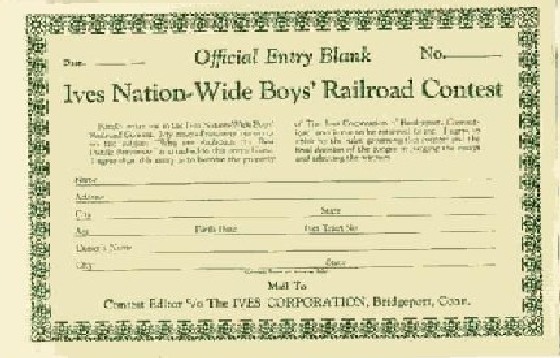 1930 Contest entry form.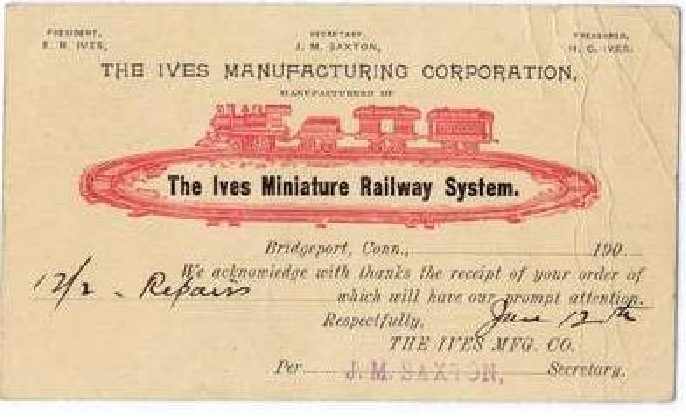 Circa 1904 - This one is not an advertisement or promotion, simply a reply to a repair order.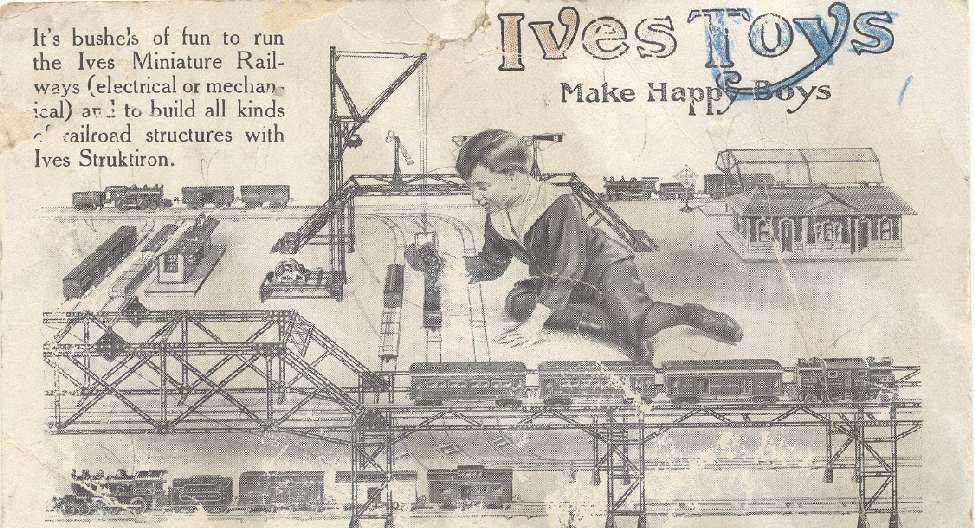 Circa 1913 - above and below are the front and back of a Post Card used by Ives in 1913 so that boys could send Santa their wish list of Ives Trains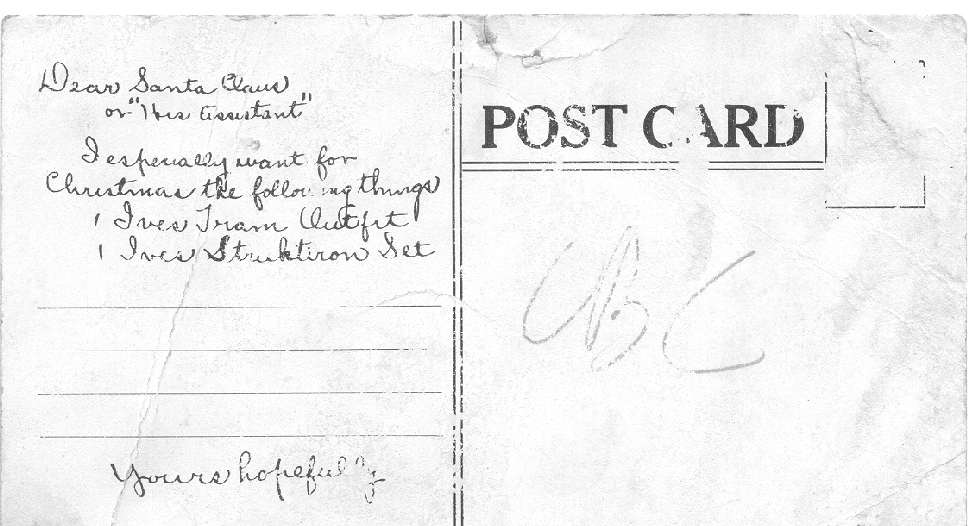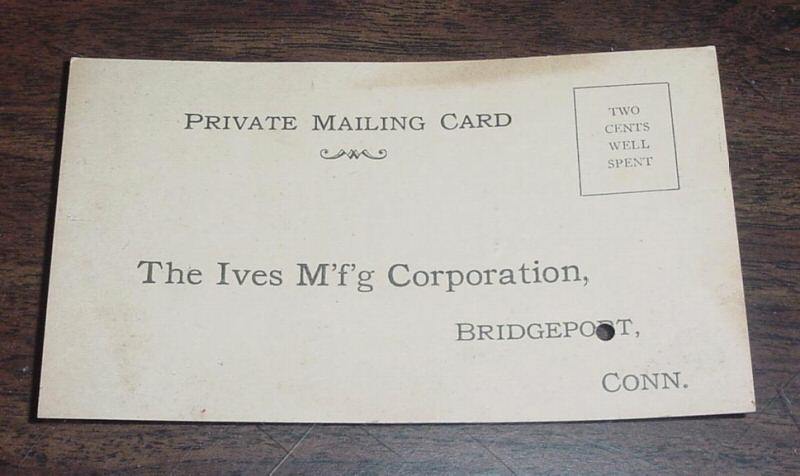 Here's the 1926 version above and below - we like the stamp area "Two Cents Well Spent"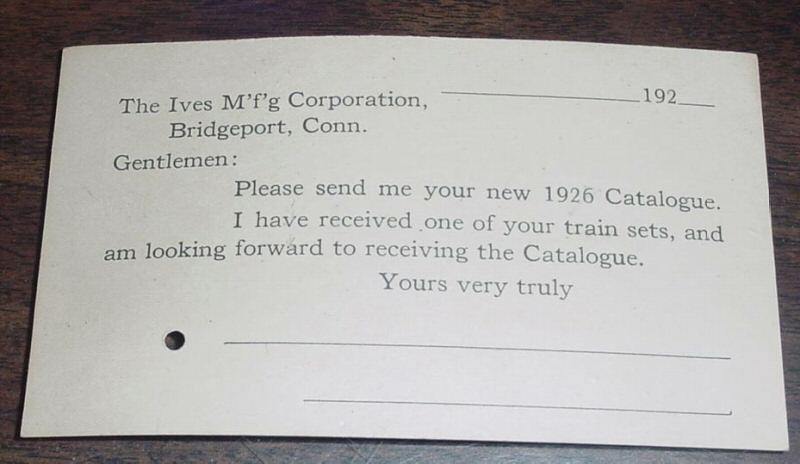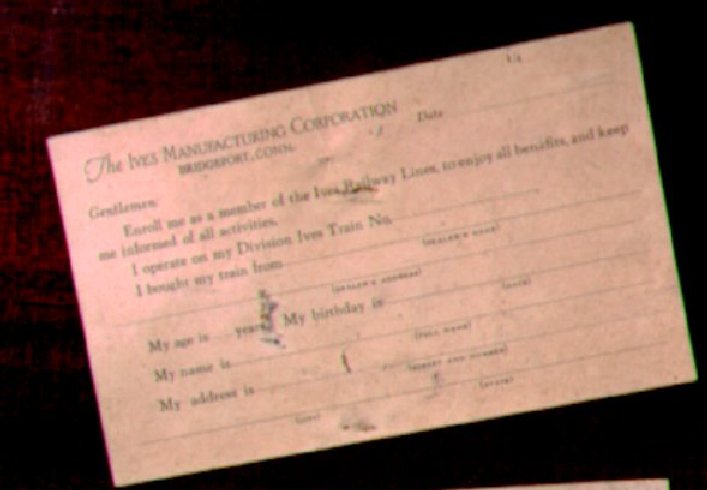 Circa 1927-1930 - The two cards above and below are identical except the top one lists the company as 'The Ives Manufacturing Corporation'. The lower card lists the company as 'The Ives Corporation' The name Ives took on after the sale in 1928. Both cards were to enroll kids as members of the Ives Railway Lines, which is how they got the pin shown above.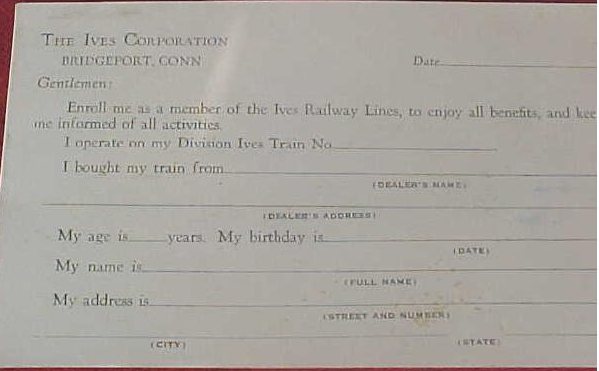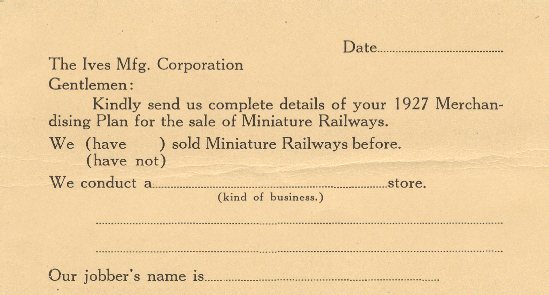 This card unlike the others above was sent to the dealers or it would seem potential dealers. Similar example below except this one came in a 1930 catalog.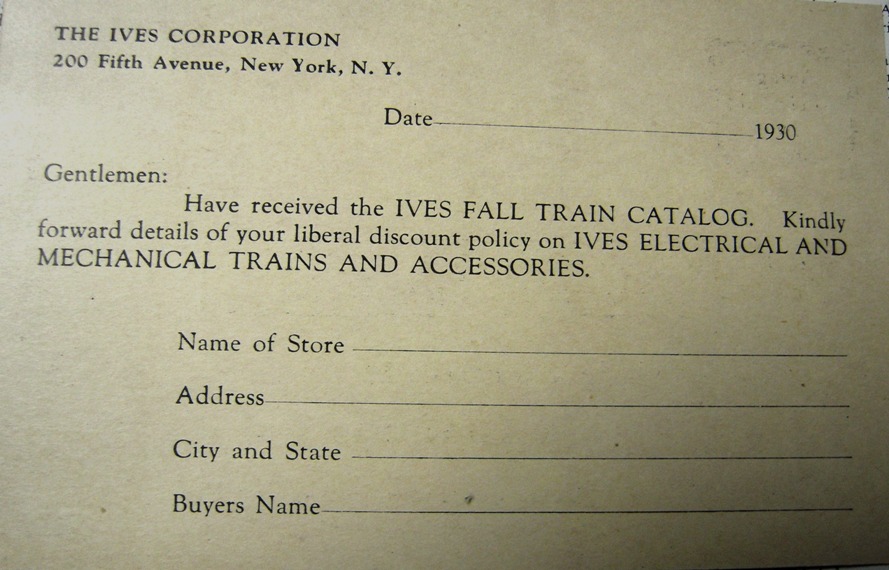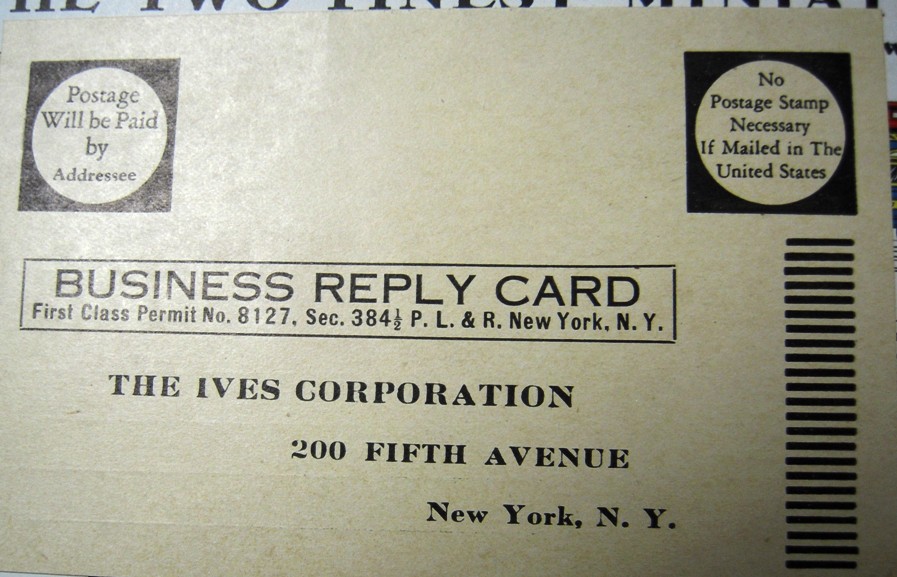 Probably NOT made by IVES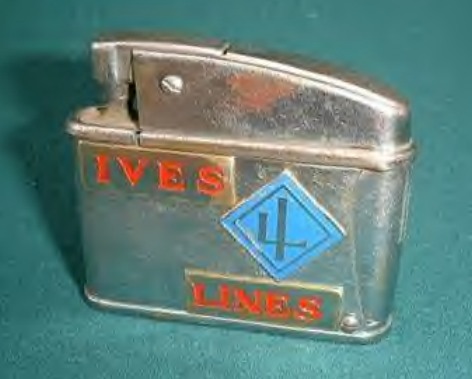 Can't tell you much about it, but graphics appear to be from 1930-32, but we don't think they made this type of lighter until the 1950s. We also have a coffee mug and a 'beer' glass with similar IVES graphics.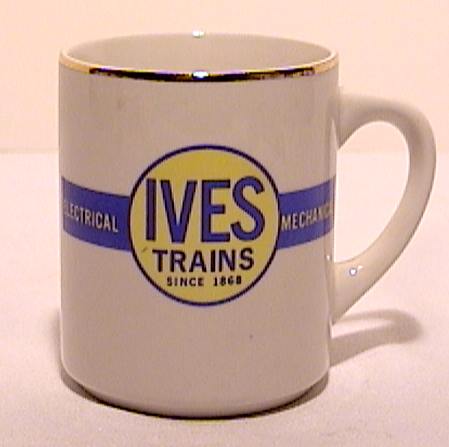 We don't know who made this mug, but it appears to be Circa 1950s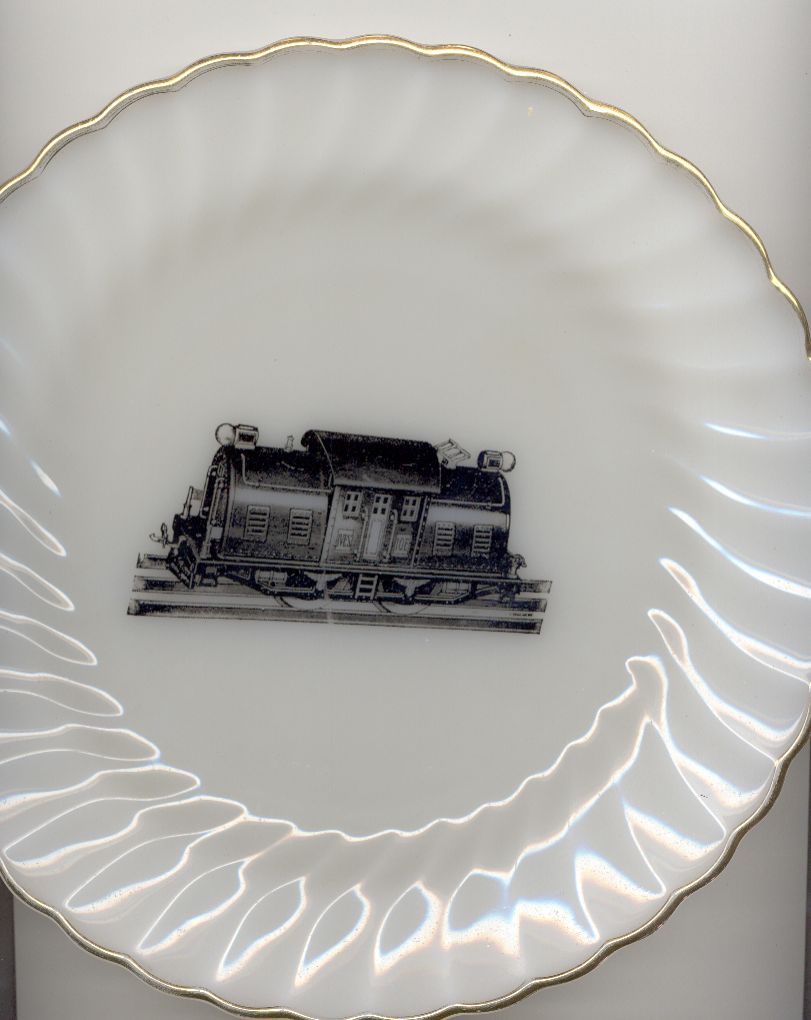 Yes it's a plate! We don't know who had these made but we don't believe it was IVES. Graphics appear to be copied right out of a 1932 catalog, they even have the same printing smudges. We have seen two variations of this plate, one with a picture of a No. 10E and one with a picture of a No. 1770E. The plate is labeled as made by "Anchor - Hocking / Fire - King / Dinnerware ". According to the Anchor Hocking company they made the 'Fire King' brand from the 1940s through the 1970s.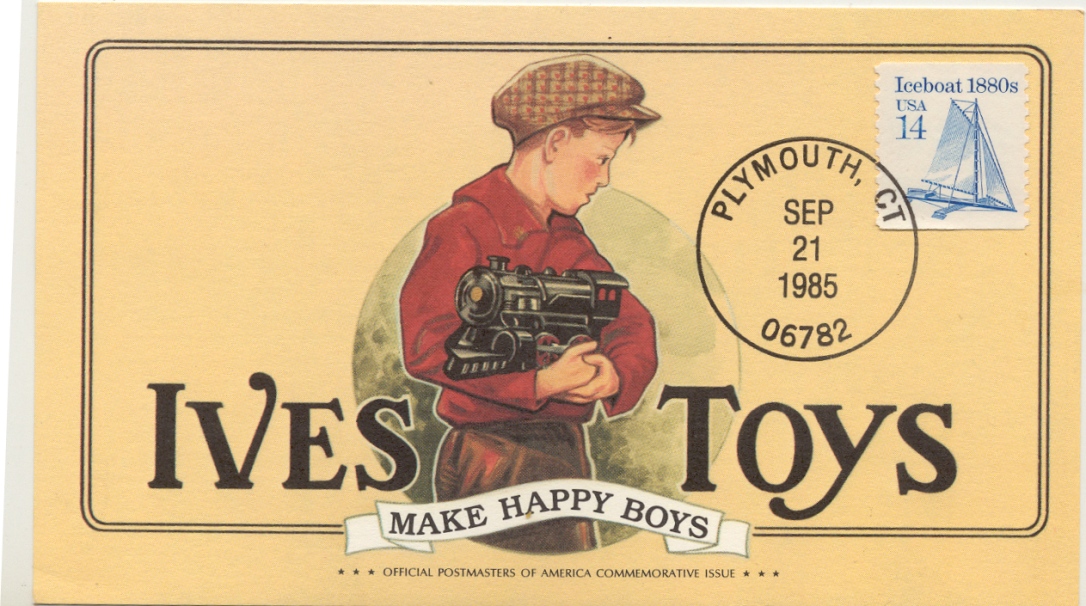 These are not old, but this post card was produced in 1985 by the post office, note the card is postmarked Plymouth Ct. where Edward started the original IVES company. The card is postmarked Sept 21st the 100th anniversary of the patent date for the IVES walking Santa which the post card calls an excellent example of the workmanship that the IVES company became synonymous with. I guess the Post Office needed something to commemorate.