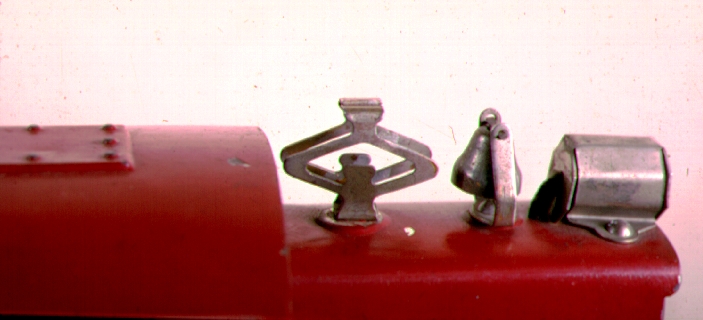 Circa 1921-1926 - Octagonal shaped nickel headlight, nickel bell and full size nickel pantograph.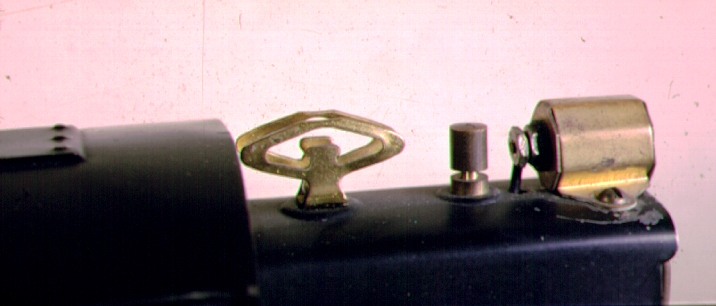 Circa 1926 - brass octagonal-shaped headlight with copper wire, screw and hex nut. brass machined whistle and low clipped brass pantograph.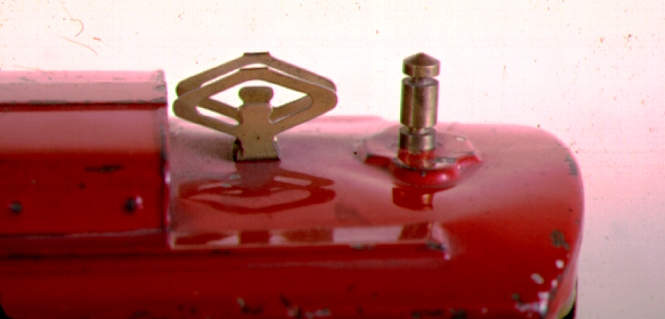 Circa 1927 - Machined brass whistle with rough clipped brass pantograph.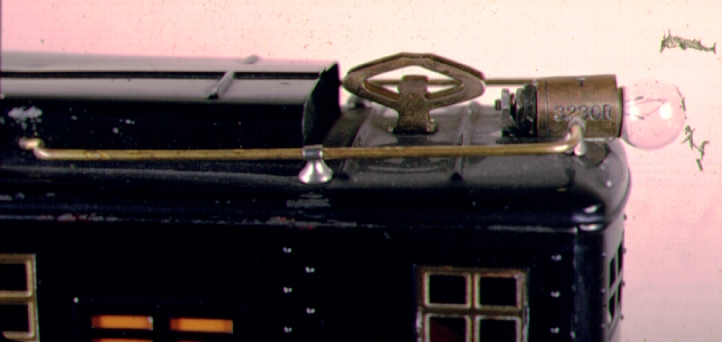 Circa 1928 - Strap brass headlight, etched in black, low clipped brass pantograph.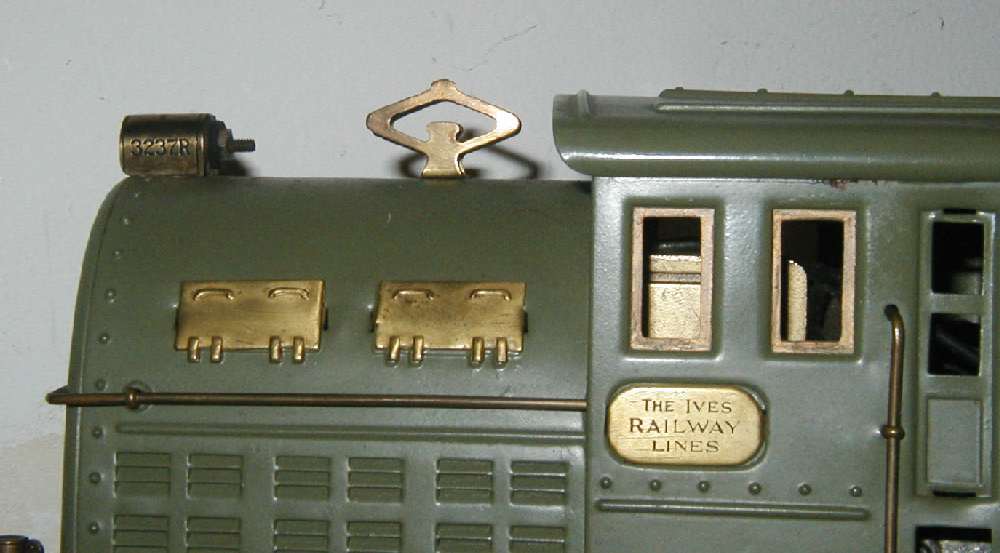 1928 NO. 3237 - Note brass hatches.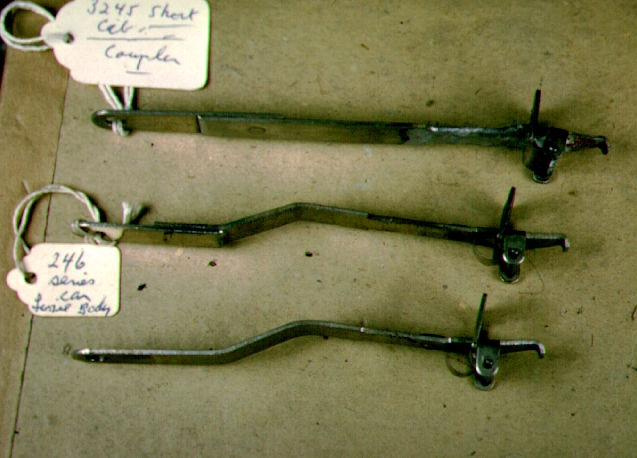 Circa 1928-1930 - above and below: coupler for 3245 short cab, lower couplers for Lionel bodied 246 series cars.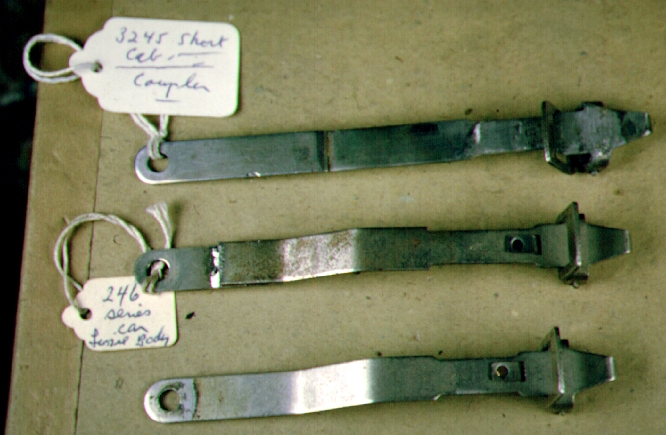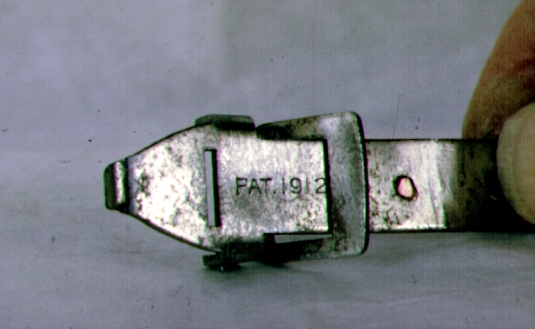 IVES coupler showing patent date.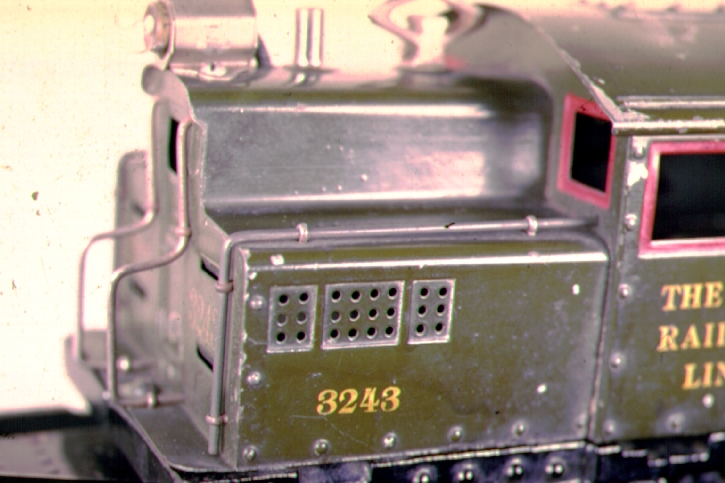 Above is pre-1925 locomotive showing extra cotter pins used to fasten railings - a total of 32 cotter pins in all. Below is 1925+ locomotives where IVES reduced the number of cotter pins to 16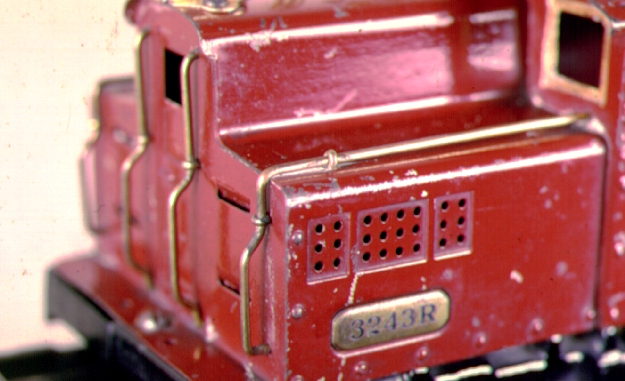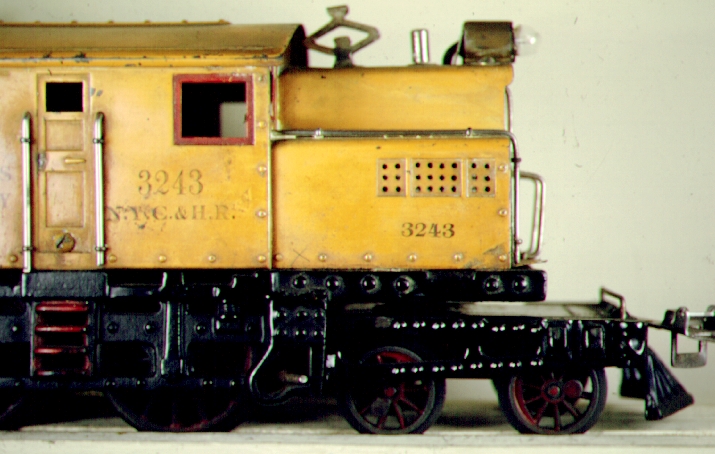 Circa 1922 - Note pilot wheels have lug (for piston rod?). This is a type I frame with four steps and keyhole like opening for reverse.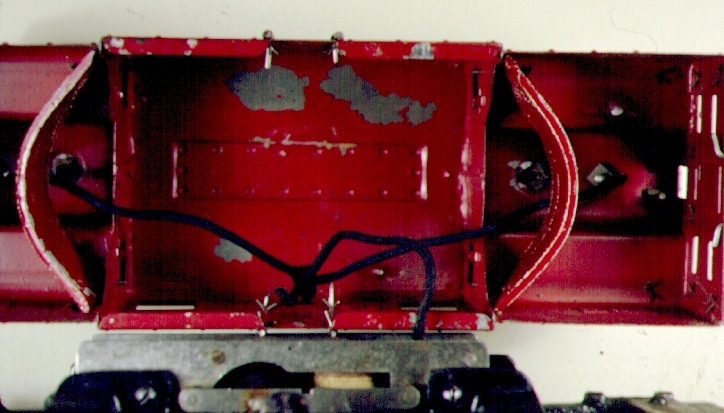 Circa 1923 - Inside of 3243 cab showing lead ribbon weights. The extra weight was needed for the lighter Type II frame.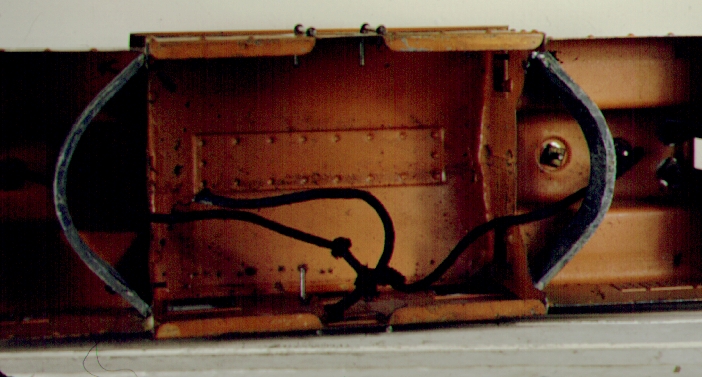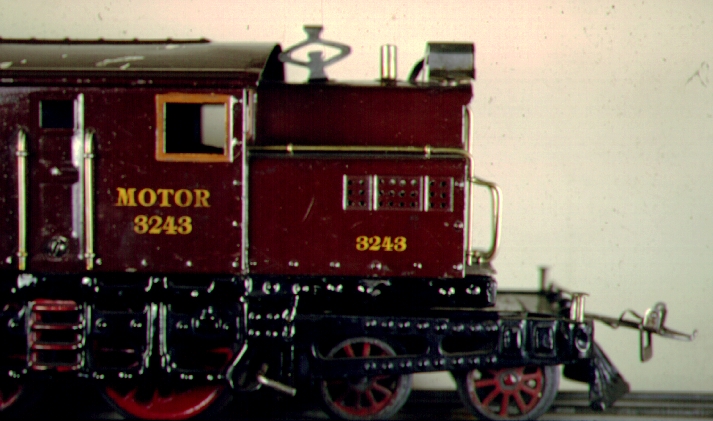 Circa 1924 - Type II frame with four steps.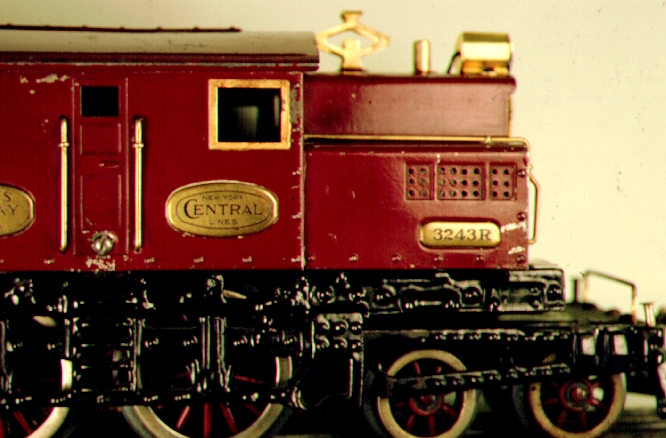 Circa 1925 - Above and below - Heavy type III frame with 6 steps.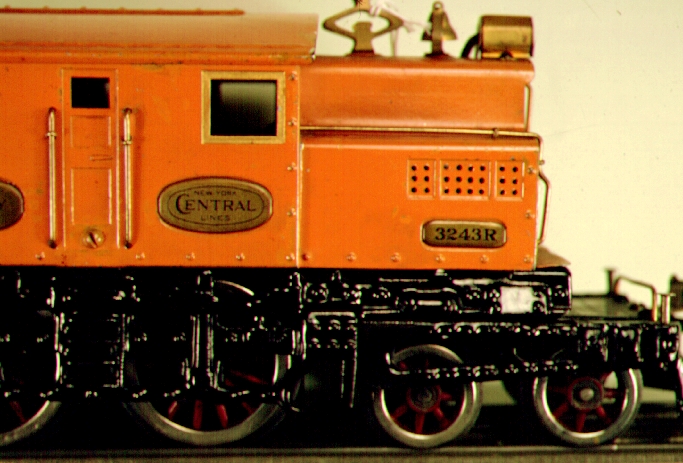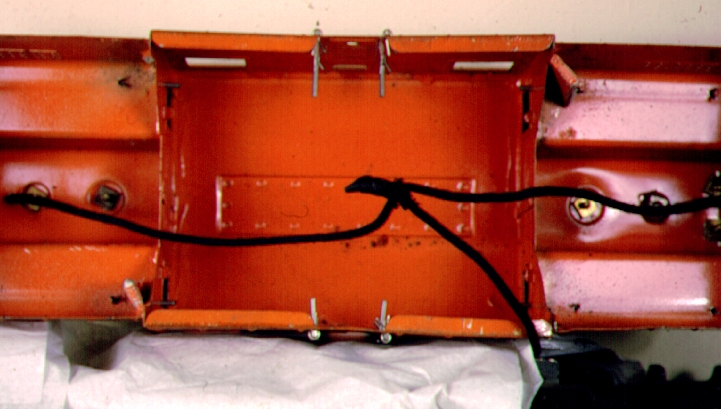 Inside of cab from above locomotive, Note that the ribbon weights have been cut out because the frame is now heavier.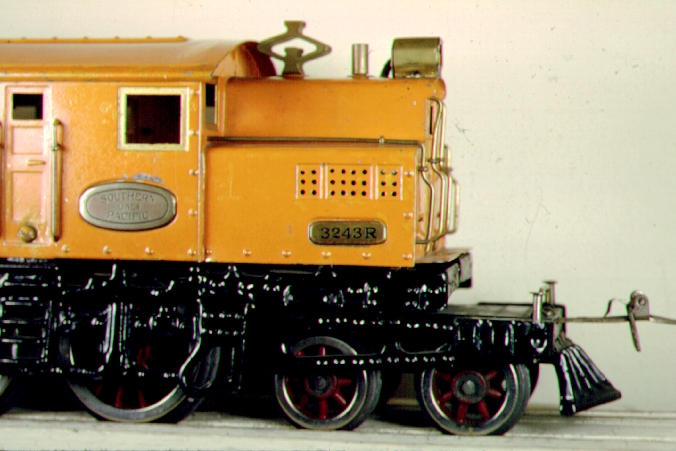 Circa 1927 - High heavy type III frame with 6 steps. Note that his locomotive is a Southern Pacific.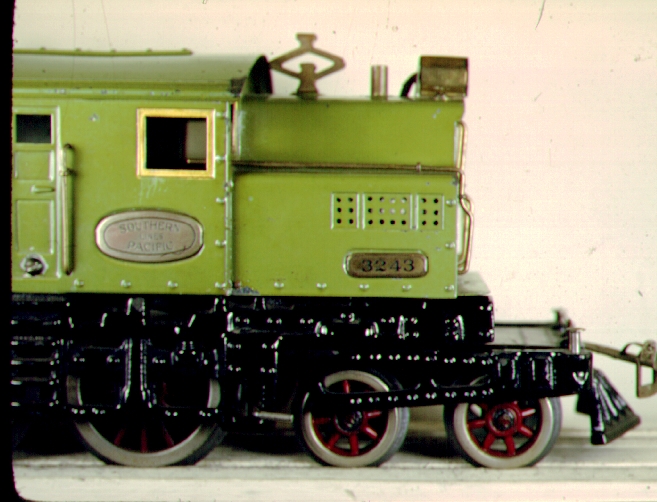 Circa 1927 - Green Southern Pacific with type IV frame with square opening for reverse lever.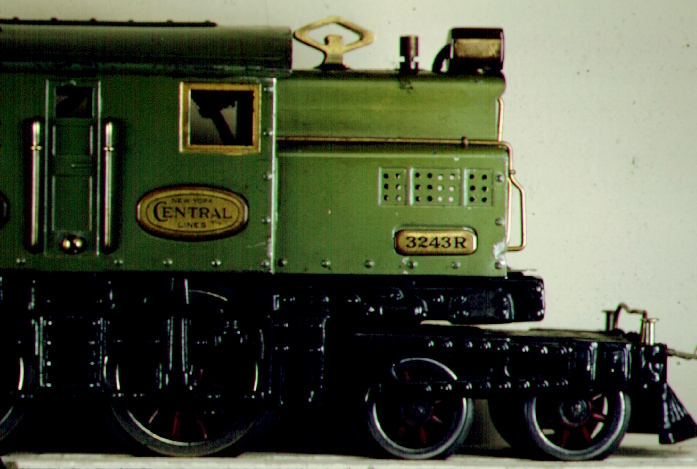 Circa 1927 - Type V frame.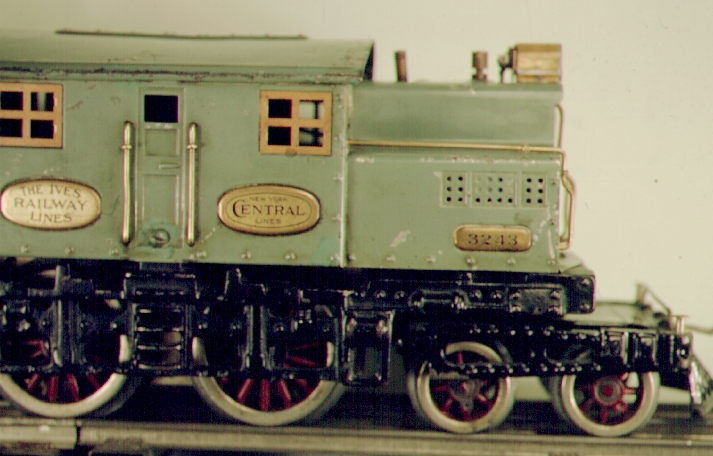 Circa 1928 - Type V frame with 7 steps to door.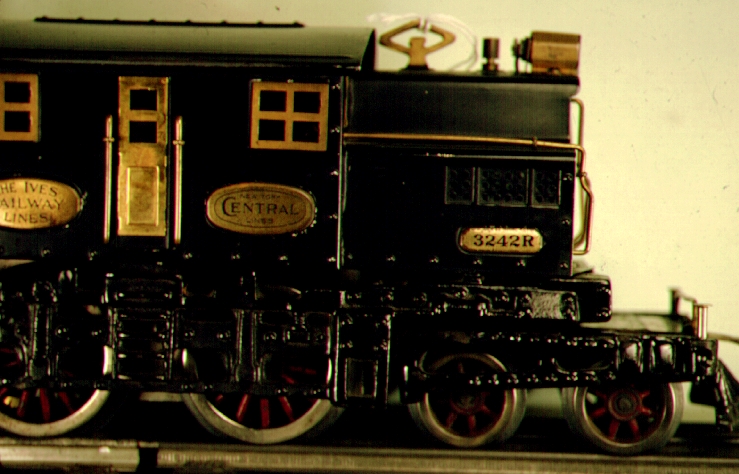 Circa 1928-1929 - Black 3243 - note that one side only has 3242 plate. These were the very last ones made as they were running out of 3243 plates.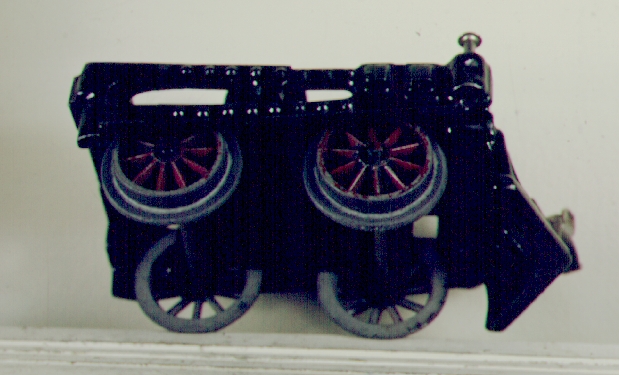 Circa 1923 - 3243 pilot wheels with knife-edge spokes.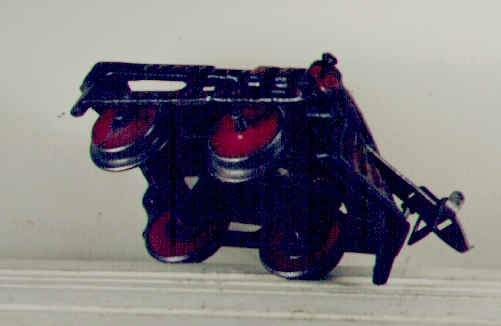 Circa 1921-1922 - Disc pilot wheels - note they were painted on the outside and inside.
| | | | | | | | | | | | |
| --- | --- | --- | --- | --- | --- | --- | --- | --- | --- | --- | --- |
| ENGINE FRAMES 3243 | | | | | | | | | | | |
| Type 1: ( 4) Painted Steps, Square Opening for Reverse Lever | x | | | | | | | | | | |
| Type 2: (4) Painted Steps, Keyhole Opening for Reverse | | x | x | x | | | | | | | |
| Type 3: 5 steps (4) Painted, Square Opening for Reverse | | | | | x | | | | | | |
| Type 4: High Frame:(6) Non-Painted Steps, Keyhole Opening for Reverse | | | | x | x | x | | | | | |
| Type 5: High Frame: (6) Non-Painted Steps, Square Opening for Reverse | | | | | | | x | | | | |
| Type 6: High Frame: (7) Non-Painted Steps, Square Opening for Reverse | | | | | | | | x | x | | |
| Type 7: Stamped Steel, Pilot Trucks Cast Iron | | | | | | | | | x | | |
| | | | | | | | | | | | |